Matt Morginsky, Vocals
D.O.B.: June 14th 1976 in Long Island, NY
Current Residence: Nashville, TN
Marital Status: Single
Hobbies: Reading, Collecting records, watching the LA Lakers, flying kites
Favorite Bands: Public Enemy and Elvis Costello
Favorite Actors: James Earl Jones
Favorite Movies: Apocalypse Now, Shawshank Redemption, Duck Soup
Equipment: "Top Flight" Composition Book, Bic ball point pens!
Favorite Verse: Job 38-40
Ethan Luck, Guitar
D.O.B.: October 16th 1978 in Long Beach, CA
Current Residence: Nashville, TN
Marital Status: Single
Hobbies: Guitars, Collecting vinyl, video editing, skateboarding, and getting tattooed!
Favorite Bands: The Clash, Elvis Costello, Tom Waits, Superdrag, The Living End, Slick Shoes, Stairwell and Social Distortion...
Equipment: Sovtek Mid 50, 1969 Fender Bassman 50, Gibson Les Paul, Fender Telecaster, Epiphone hollowbody!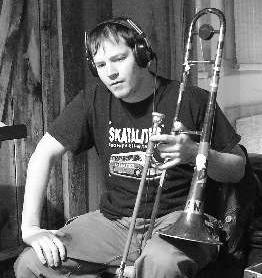 Dan Spencer, Trombone
D.O.B.: November 20th 1973 in Lubbock, TX
Current Residence: Franklin, TN
Marital Status: Married to Leslie
Hobbies: I wish I knew!
Favorite Bands: Jose Cuello, Ambie Gentry, Elvis Costello, Ben Harper, Thom Yorke and Crew, Switchfoot, Royal, FIF, All-Star U., the Grown-ups, Dave Wallin, Daniel Arthur Bailey, Sinead O' Conner, Beth Orten, Sam Prekop, Shae Acopian, Mark Rothko, Jody Davis, Lara Wolff, Robert Rauschenberg, James Whitmire, V. Van Gogh, Red House Painters, Joe Strummer, Frank Lenz, Mike Weebee (sorry if not spelled right, Mike) !No te rajes!, Stavesacre, Plankeye, Andy Warhol, Ira Lippke, Robert Marley, Christopher Owens, Harriet Wheeler & the Boys, Peter Gabriel, the Edge, Roadside Monument, Clint Stapleton, Michael Live-say, Wright, Darren Doane, Jeff Holmes, the Supertones, Shawn Matthews. . . and, oh, there are more.
Equipment: A silver trombone!
Before The Band: Played with the Grown-ups, a two-tone ska band out of Denton, TX
Favorite Authors: Francis Schaeffer, Michael Horten, R.C. Sproul, Charles Spurgeon, John Piper. . . these guys' writings have challenged me to look deeper into the Word and in the saving sacrifice of Jesus. Read "Putting Amazing Back Into Grace" by Michael Horten. I've given this book away a few times because it's changed my life and I hope it continues to change others.
Inspirations: Arthur, Mary, Nathan, Andrew, Grandmother and the rest of my huge wonderful family; Jameson Longanecker, Matthew Gibbons, Shane Yarbrough, Acopian Family, Lamperis Family, Mullins Family, Adam Ferry, Robert Burke, Brandon Ebel, Viki Lynn, Willie Ames, Roger Wagner & Family, James
Roberts, . . .there are more here as well.
Favorite Bible Verse: Rom.7
John Wilson, Drums
Age: 24
Current Residence: Cali
Marital Status: Single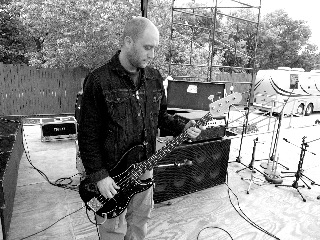 Chris Beaty, Bass/Manager
D.O.B.: April 18th
Bret Barker, Trumpet
D.O.B.: 8/28/75
Place of Birth: Bridge, Oregon
Current Hometown: Benicia, Cali