Saturday 10/19/02

- Supertones Concert from 2000 (Ethan is playing)

Show from Harvest 2000

Set List for Harvest 2000

Supertones Strike Back
Hallelujah
What It Comes To
Away From You
(Jason Speaks)
Unite

- Andy Ray the guy who sings on "Hallelujah" on CTS sings it with the Tones live

- Crystal Lewis sings with the Tones on "Away From You" live.

- Supertones Concert from 1998 (Bronson is playing)

Show from Harvest 1998

* if you fast forward real player to 49:00 you can see a concert from the Supertones days of the "Strike Back" Album Bronson is playing with them. *

Set List for Harvest 1998

Who Can Be Against Me?
Resolution
Unite
Supertones Strike Back
(Jason Speaks)
Away From You

- later on you can see Matt and the lead singer of Audio A leading worship

- *Note* There is this very annoying translater talking in the background

- During Audio A's performance of "Blitz" the Tones come out and play with them

- fastforward to 1:50:00 to hear matt and audio a sing worship songs


- The Supertones #13 on This Week's Christrock.net's charts, and it's the highest mover of teh week, going from #23 to #13!

- There is a Supertones DVD coming out on November 19th, you can buy it here: http://www.grassrootsmusic.com/artist/supertones/supertones7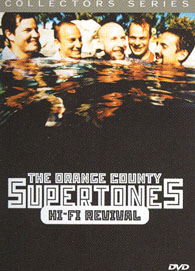 - The Supertones page at MP3.com was updated:

http://artists.mp3s.com/artists/210/the_oc_supertones.html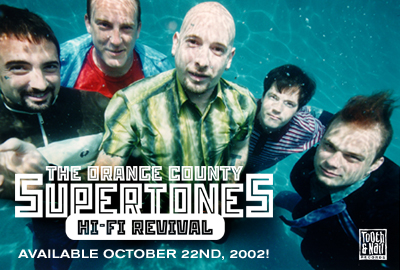 - There's a new design at http://www.supertones.com check it out!

- The Supertones were on TBN last night for 30 mins

the set list was:

Superfly
Brand New Thing
Resolution
(Dan talked)
Welcome Home

Encore:
Who Can Be Against Me?

I taped all 30 mins of that wonderful show.


Tuesday 10/1/02

I saw the Supertones this past sunday:

Adonai
Little Man
Grounded
What It Comes To
Who Can Be Against Me?
Jury Duty
Superfly
Sure Shot
Away From You
Resolution
OC Supertones
Welcome Home
Unite

Encore: Return of the Revolution

It was an amazing show, at one point Matt's mic flew off the stage and he said it must have been depressed and said, "It's all over!!!!!!" then at the encore they played some light Jazz for us and made sure we brought back a clean plate to the buffet table (you had to be there) also, the new drummer is ok, I liked Sam from Stavesacre muuuuuuuuuuuuch better, and before i forget, I met Steve, our faithful moderator He has bleached hair and if you're not looking at him right you'd swear he was Jason Carson or a brother of his or something, I got to talk to Ethan, Dan and Matt. Well I have pictures and I will scan them later.

Monday 9/23/02

- At http://jesusfreakhideout.com/sounds/s.asp you can find 24 seconds clips of all 15 tracks to, "Hi-Fi Revival"

1. "Superfly"
2. "Brand New Thing"
3. "Welcome Home"
4. "Hold On to Jesus"
5. "Go Go Go"
6. "Let It Go"
7. "Just A Man"
8. "Attitude"
9. "Perfect Love"
10. "Fire"
11. "Birth of Uncool"
12. "Go Your Way"
13. "Radio Plays"
14. "Forever"
15. "Glory Hallelujah"


- Ethan updated http://www.supertones.com with this today:

9/23/02

Hey kids. We just got back from a few shows in California. Magic Mountain and Redding, CA. They were both great show. At Magic Mountain we played with Skillet and Bleach. In Redding we played with Pax 217. We still have shows on the weekends so keep checking the tour dates for shows.

Our spring tour has been announced! It's called "See Spot Rock" here's the line-up...

O.C. Supertones
Relient K
Pillar
John Ruben
Sanctus Real
Please check out http://www.seespotrock.com for details. Leave your email address and info will be forwarded to you as soon as it's available.

That is all for now...

E*T*H*A*N

Monday 9/16/02

- I emailed Ethan asking him a GI question, here's what I got:

I said:

A few years ago FIF did a side project and it was pretty dark, will GI be anything like that, if not dark at least more personal?

Ethan said:

Not at all, this is the opposite of dark. its really rock and poppy and very influenced by the clash, costello and the pixies. Content is right on...you'll like it.

I responded with:

sweet, I thought the FIF side project was good but depressing, I'm glad you guys are keeping it postitive. I'm coming to your show at Big Spring Jam on September 29th, do you think I can request a song? If you could make it possible I would love to hear, "Spend It With You" or "Hanani", if you could I would be so thankful. Later.


Sunday 9/15/02

I Found this great Supertones interview from Australia here: Australia Interview

I took out the best quotes and stuff and put them below.

Question: You guys have together for a while, what 6 years?

Matt: Eleven.

Question: Oh eleven. What took you so long to get to Parachute, what's the hold up?

Matt: We walked.
------------------------------------------------------
Question: Does it matter that you guys are all getting a little bit older? Have you noticed that there's a difference in how you relate to people?

Ethan: I'm not in this, I'm the pup of the band. Talk to the grandpas

(everyone laughs)

Matt: You're in time out.
------------------------------------------------------------------------
Question: You've just been in Australia, at Sonfest, is that right? Are Australians different at all from a typical American audience at all? Is it the same once they get moshing?

Tony: They do everything on the left.
------------------------------------------------------
Matt: We went in the Skytower. That was fun. I was scared.

(everyone laughs)

Question: Did you do the drop off?

(everyone laughs again)

Matt: No

Dan: We did the glass thing.

Matt: We never even got off the elevator we were that afraid.
------------------------------------------------------------------------
Question: Do you get much flack from the media or people in general about being in a Christian band and having tattoos and stuff?

Dan (who has no tattoos): No, actually I've never had that problem.
------------------------------------------------------------------------
Question: Were you happy with his producer, Neill King was it?

Matt: Yeah.

Question: What was that like, was it quite inspiring?

Matt: It was cool because, when I first met him he'd just listened to our demos and we'd never met him and said "Did anyone ever tell you that you sound like Elvis Costello?" We've been best friends ever since
------------------------------------------------------------------------
Dan: The producer came up with the idea for that. It was just, the whole idea was kind of goofy, it was just, the Supertones were taking over the bingo hall...

Matt: Subversive...

Tony: ...kind of coercion going on...
------------------------------------------------------------------------
Aaron: What's with the liner notes as well, all the different kind of get-ups in that?

Tony: Oh yeah...that was us...

Matt: It was like three in the morning on the bus and we were like, kind of playing with that whole idea, and then we were just like..."Hey we could have an astronomy club..."

Tony: And I have to say, my friend Dan here played the part so good, every outfit he puts on it's like...
------------------------------------------------------
Aaron: The Any Given Day CD's, how much involvement did you guys have with that?

Dan: Jason, our old drummer, he just basically, he just played drums on one song...he just organized it basically.

Matt: But everybody always says to me, "I love that CD", I'm all "Thanks dude".

Dan: It was just all friends and people we know playing on it...

Darren: Yeah, but they, you know, hyped it...


Tuesday 9/10/02

- I IMed John Reuben's manager to get some info about the See Spot Rock Tour, I only got one good peice of news out of it:

Stones891 (7:45:07 PM): hey I hear John is going on tour with the Supertones, is that true?
Stones891 (7:47:00 PM): ?
Reubenmanagement (7:49:36 PM): it's a possibility
Reubenmanagement (7:49:47 PM): who's this
Stones891 (7:49:57 PM): just an intrested fan
Stones891 (7:50:01 PM): Josh Encinias
Stones891 (7:50:27 PM): so this isnt a for sure thing yet?
Reubenmanagement (7:50:49 PM): cool, we'll send out a newsletter with any news or announcements
Stones891 (7:51:01 PM): cause jesusfreakhideout.com is saying ir is
Stones891 (7:51:09 PM): o ok
Stones891 (7:51:48 PM): one more question!!!!!!!!!!
Stones891 (7:51:55 PM): and then i will leave you alone
Stones891 (7:52:10 PM): when should we expect tour dates to come out, i need to budget it
Reubenmanagement (7:53:23 PM): tour dates in general for john reuben?
Stones891 (7:53:38 PM): i mean the See Spot Rock Tour
Reubenmanagement (7:54:38 PM): i am not sure, sorry :-)
Stones891 (7:54:43 PM): its alright
Stones891 (7:54:46 PM): thanks a bunch
Reubenmanagement (7:55:01 PM): your welcome

He basicly told me that John touring with the Tones isn't for sure yet.

Monday 9/09/02

- At JesusFreakHideout.com: Supertones Touring News there was a butt load of new Supertones News posted this morning, enjoy:

The O.C. Supertones are gearing up to rock the country with the much-anticipated release of their new album, Hi-Fi Revival, on October 22nd. The launch will take place in their southern California home, at the Tower Records in Long Beach. Los Angeles' KROQ, one of the nation's top rock stations, will be in attendance to help promote the event. Brilliantly produced by experienced duo Brent Bourgeois (WOW Hits 2002, Chris Rodriguez) and Charlie Peacock (Audio Adrenaline, Switchfoot, Ravi Coltrane) Hi-Fi Revival delivers original and cutting edge music that presents an evolution of the band and their pop-rock sound. It's being described as equal parts Elvis Costello, The Ramones, The Clash, and James Brown. Band manager Steve Thomas says, "The Supertones are in good company with bands like No Doubt who have their roots in the Orange County ska movement but have moved on to make great pop records. Hi-Fi Revival has a fresh, relevant pop rock sound that proves this band has evolved." Producer Charlie Peacock says, "The Supertones have come up with some fresh musical flavors, all the while retaining their original SoCal coolness. I think this new CD is like a box of cinnamon Altoids--strictly irresistible." The Supertones just wrapped production on the video for probable first rock single, "Super Fly" in Los Angeles. The video will be included on a promotional DVD set to come out later in the year. Next spring, the band will head out on the See Spot Rock Tour with Relient K, Pillar, and John Reuben. The tour, running from February through May, will be a one-day rock event set to hit approximately 50 cities. More information on the tour will be announced soon.

Sunday 9/08/02

- Ethan posted this post on the Supertones Message Board yesterday Ethan's Post:

" Hey everyone! Sorry i have been gone for a while. we have been busy with playing shows and Mojo and I just got back to Seattle today to finish up the GI record. Last night we played Florida at Universal Studios and it was amazing! We played with Relient K and the crowd was off the hook....did i just say "off the hook?" wow....anyway....If anyone is in So Cal., on the 22nd we are playing at Magic Mountain with Bleach and Skillet....please come if you can...its going to be so much fun. well, that is all for now....i hope and trust everyone is doing ok. bye bye "

E*T*H*A*N

Saturday 9/07/02

- Pics from the "Superfly" Video Shoot
Go to the link above and click on 'GALLERY' to see pics from the Tones recent video shoot of "Superfly"

- This an update Ethan put on their web page a few days ago:

" Hello everyone out in Supertoneville. Sorry for the delayed update. We are winding down the summer season right now and still playing shows on the weekends. This fall we have a ton of shows on the weekends so check out the tour schedual for dates. Mojo and I are in the studio right now hacking out songs for the Grand Incredible record. We are tracking 16 songs and we will probably record a few acoustic B-sides including an acoustic version of "Hold on to Jesus", songs we never used for either record and maybe an Elvis Costello cover. The record is being produced by Aaron Sprinkle from Poor Old Lu. He has done such great records as MxPx- Pokinatcha, Blenderhead, Kutless, Demon Hunter and the Grand Incredible. "

- The record is sounding amazing! The new Supertones record, "Hi-Fi Revival" is about to be pressed and we just saw the artwork and it looks great! Remember, the release date is October 22nd!

- We will probably be doing a release show in LA. We also just filmed a new video for the first song off of the record, "Superfly". We filmed it in South Central L.A. with Derek Dale who has worked on our videos in the past.

- CD picks of the week....
1. Aaron Sprinkle- Bareface
2. Coldplay- A Rush of Blood to the Head
3. Bruce Springsteen- The Rising

that is all for now...

E*T*H*A*N

9/06/02

- News on the new OC Supertones video, "Superfly" and the side project Grand Incredible
Superfly & GI News

SUPERTONES ARE "SUPERFLY" The OC Supertones just wrapped up a video shoot for "Superfly", the first single from the group's forthcoming album, Hi-Fi Revival, which releases October 22nd. The video was shot on 35mm film at an abandoned office building in South Central Los Angeles, and Musicforce had a chance to catch up this week with Supertones frontman Matt "Mojo" Morginsky to chat about the new CD. Mojo describes the sound on Hi-Fi Revival as "our own interpretation of old school R&B, with a little Sly & the Family Stone, Otis Redding, Al Greene and Marvin Gaye all mixed in." A change in producers placed veterans Brent Bourgeois and Charlie Peacock at the ship's helm, which provided the perfect opportunity for a clever Lord of the Rings reference by Mojo. "Charlie was our Elrond, the overseer who gave us the overall guidance. Brent was more like Gandalf, who went with us on the journey and was more hands-on. And they're both old." Mojo also gave us the scoop on a little side project he's got up his sleeve for next year. For fun, he and fellow Supertone Ethan Luck have formed a musical duo, working in Mojo's basement studio on an album to be released sometime next year. Grand Incredible (GI for short) will deliver an album of "enthusiastic pop rock" titled GI-gantic. But this doesn't mean the OC Supertones are breaking up. "It just means we have an excess of energy", says Mojo....